Some Popular Email Clients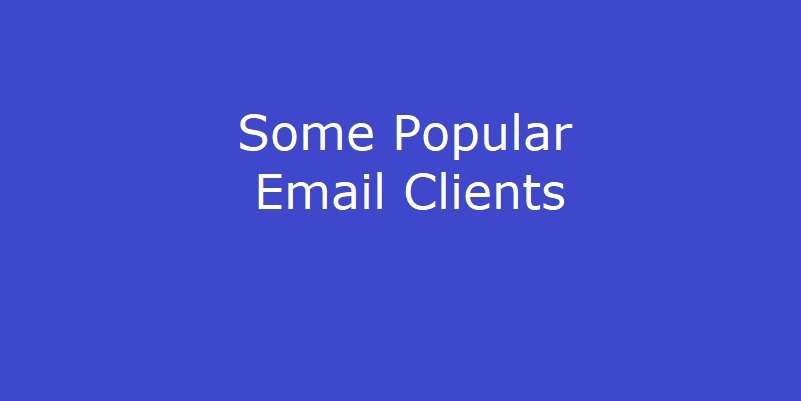 In this article we will have a look at some of the most popular open source email clients. If we have an Email Client on our Desktop or Laptop Computer, it allows us to work with our emails in offline mode. By using Email Client, we can set our personal preferences for our business emails and personal emails. We can also manage calendars and address book in a secure environment. Having some knowledge about the application helps us to find out the best one for our use. There are numerous email clients available on the internet. Choosing the best one is a difficult task. Here we are giving a brief description of some of the most popular email clients for our readers.
Thunderbird Email Client
This is free and open-source email client application. However, it is a cross platform email client and it supports Windows, Linux and MacOS.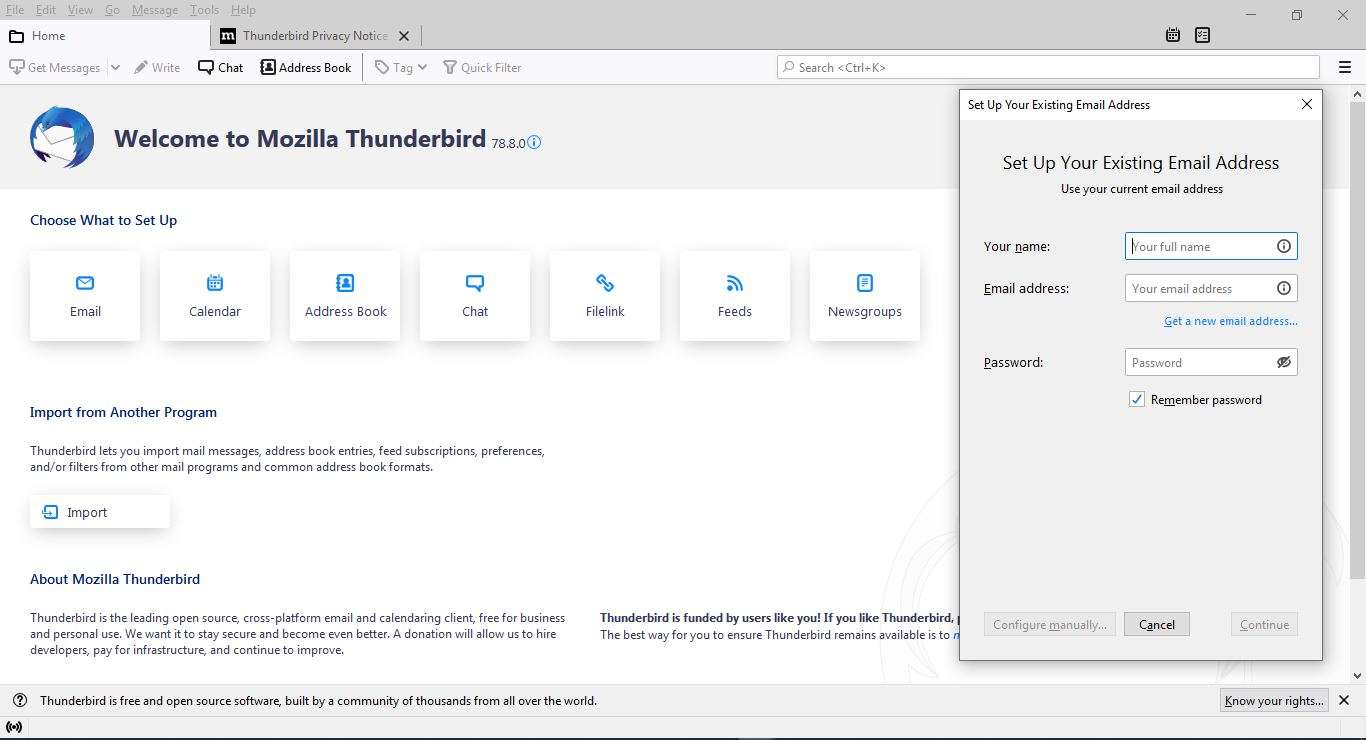 Free Email Client
Thunderbird free mail client supports sending / receiving of emails. Moreover, We can setup and customize chat, newsfeed and calendaring client in Thunderbird email client. There is a great team of developers who volunteers for development of Thunderbird and helping its users.
Mail Account Setup Wizard
In addition to above, the Mail Account Setup Wizard of Thunderbird assists users to configure their email accounts in Thunderbird easily and quickly. Thunderbird also, has One-click Address Book which is an easy and quick method for adding and modifying address book in few clicks.
Attachment Reminder Feature
There is an Attachment Reminder feature in Thunderbird that reminds the users if they forget to attach files while composing new email or in email replies. The Tabbed Email feature of Thunderbird mail client enables us to open more than one emails in separate tabs. This helps us to quickly jump between the emails. When the Thunderbird email client is closed, all the opened tabs are saved. These tabs are restored back when we again open Thunderbird the next time.
The Quick Filter Toolbar
The Quick Filter Toolbar feature of Thunderbird lets us filter our emails faster. Quick Filter box instantly displays the outcome of the typed words. We can filter our emails by Tags or on the basis of Address Book columns. For faster search the emails are indexed in the Thunderbird email client.
The Message Archive
There is a Message Archive where we can store our messages that we may need in future. Thunderbird mail client also supports various themes and we can change the Look & Feel by selecting and applying the desired themes. Originally Thunderbird comes with light and dark themes, other themes are available as add-ons.
The Add-Ons Manager
There is an Add-Ons Manager with the help of which we can add various themes and plugins available for Thunderbird. Thunderbird also supports user privacy and image protection. It supports automatic images blocking in the emails to ensure the user's privacy. Thunderbird also defends user's against Phishing attacks. Thunderbird's update feature automatically checks and notifies the user when any update is available. This automatic update feature is available Thunderbird on MacOS, Windows and Linux. Thunderbird also filters out the Junk emails and stores them in the Junk folder.
Installation
The installation of Thunderbird email client is simple and straight forward. Just visit the official website and follow the installation steps. A link to the official website
Official Website: Official Website of Thunderbird Email Client
Evolution Email Client
Evolution Flexible Mail Client is a complete groupware email application software. However, it is an open source and free to download and install software. Also, Evolution is available on Linux/BSD/Unix based operating system platforms.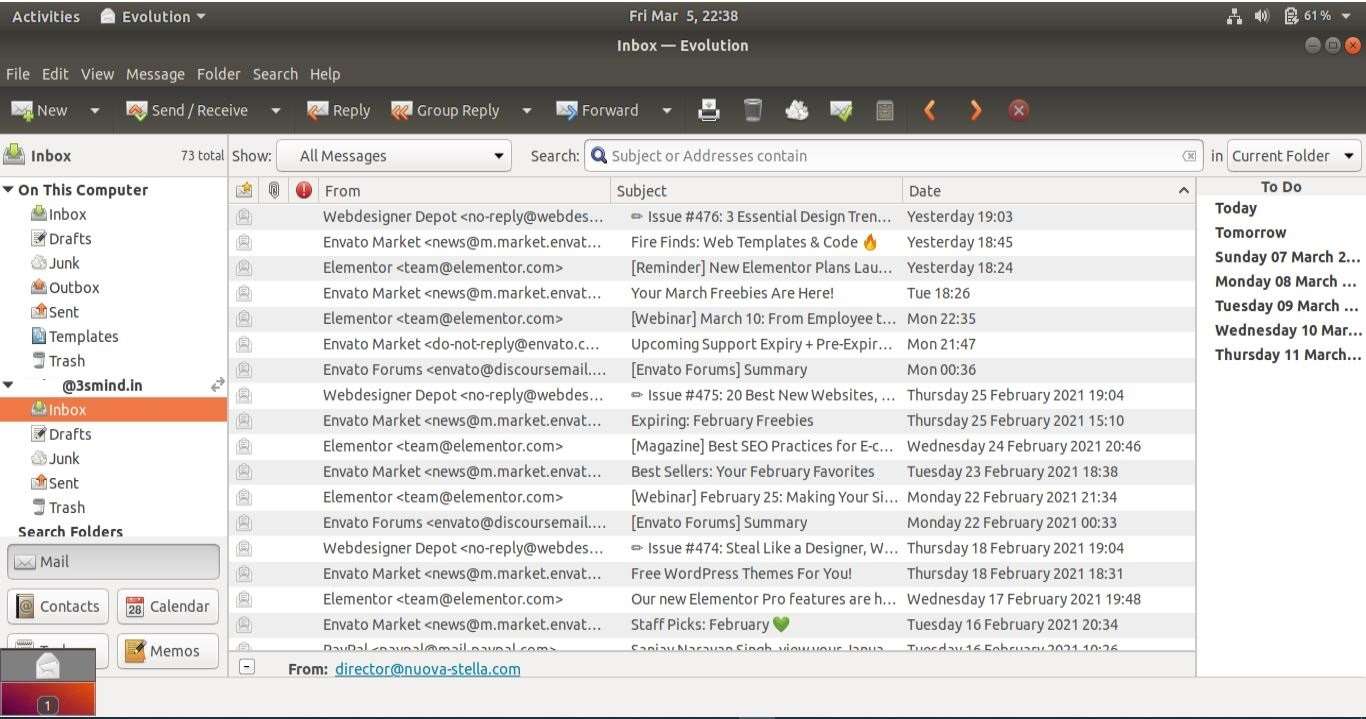 Flexible and Powerful
Additionally, it is flexible, powerful and impressive email client. Also, by using the Evolution email client it becomes simple to connect to Microsoft Exchange Servers. 
Supports SpamAssassin
In addition to above, Evolution Email Client uses SpamAssassin tool to filter out spam mails. Also, it supports secure messaging through the use of S/MIME. However, we can create virtual folders in Evolution Email Client which enables us to better organize and search our emails with ease.
Multi-Protocol Support
Further, Evolution Flexible Email Client has the capability to manage multiple email protocols, for example POP, IMAP and Microsoft Exchange, in addition to local mail accounts. Evolution Email Client application has Email, Calendar and Address Book integrated with it.
Feature Rich
In addition to above, Evolution has a rich feature set. We can flag emails for follow up. Different colors may be assigned to the emails according to the flags assigned to them. through the use of OpenPGP and S/MIME, secure messaging is also very well supported in Evolution mail client application. 
Help and Manuals
The detailed manuals and documentation of the Evolution email client application is available on the official website. Evolution email client is part of the GNOME Desktop. Evolution supports GNOME 2.8 Desktop and above.
Installation
The installation of Evolution email client on Ubuntu and all the Ubuntu and Debian like distros are similar. Below given are the terminal command line statements to install Evolution on Ubuntu 20.04 LTS. Follow the below given commands to install evolution on Ubuntu 20.04.
sudo apt-get update
sudo apt-get install evolution
sudo apt-get install evolution-ews
To remove or uninstall Evolution email client application from Ubuntu 20.04, open the terminal window and type the below given command line.
sudo apt-get remove evolution
A link to the official website of Evolution Email Client is given below to get the information about installation on other operating system platforms and detailed help manuals.
Official Website: Official Website of Evolution Mail Client
Geary Email Client
Geary – The Rich Email Client is an open source and freely available email client. However, it is available under GNU general public license. Geary is the default IMAP email client of the GNOME desktop. Especially, the distros having default GNOME desktop have Geary as their default email client.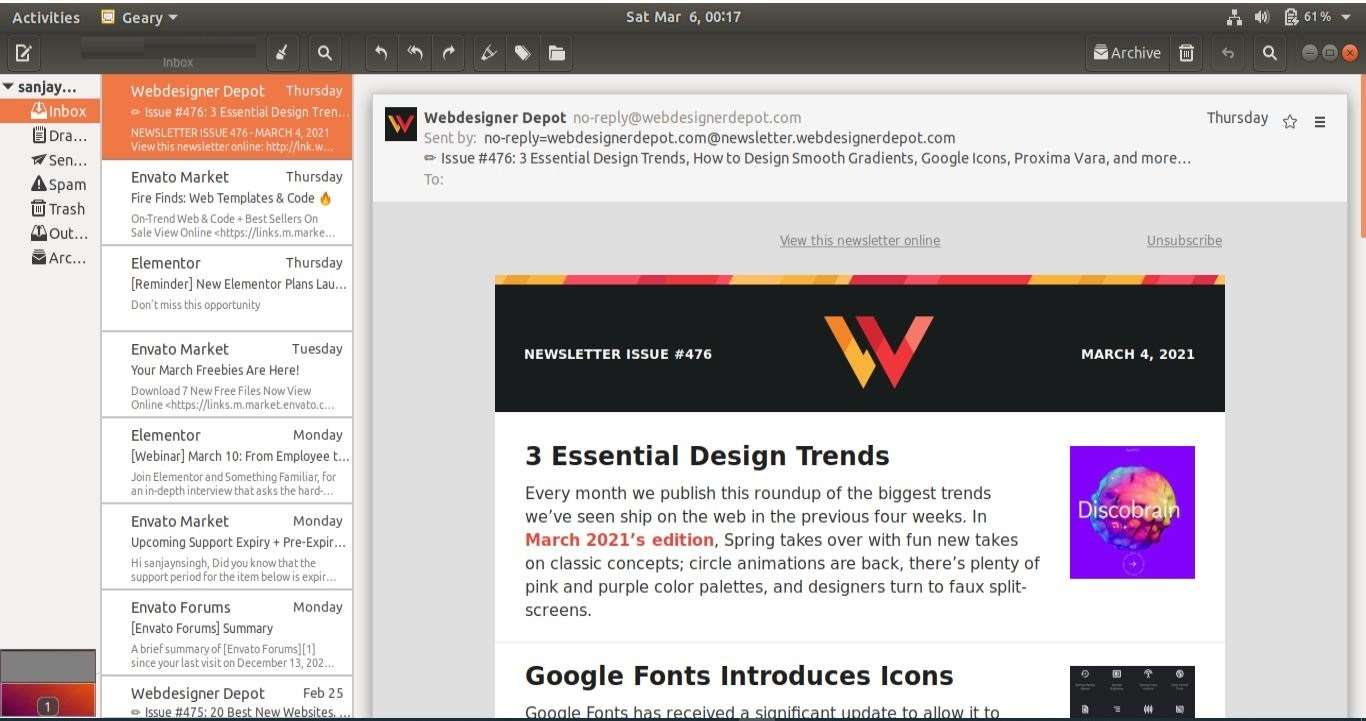 General Features
Furthermore, it has a very simple and short user interface. Also, the user interface of Geary is flat, clean and very intuitive. Moreover, it does not have too many panes or sidebars. It is very simple and so easy to use that anyone can start using it right after install.
No Plugin System, No Customization, Just Do the Job
There is no plugin system in Geary email client. There is not much to do or customize in the preferences section in Geary mail client. It is just an email client which focuses on the job and you will find that it does its job without any confusion. Just install and configure this email client and forget doing any changes thereon.
Simple and Quick Account Setup
The account setup in Geary email client is very quick. It supports most of the major email servers. The mails in Geary are managed and organized by the conversations done. It has a fully functional HTML based email composer. A fast search (keyword) option is also there for help of users. It also supports desktop notification of newly received emails.
Installation Steps
The installation of Geary – The Rich Email Client is quite straight forward. If you want to install Geary on Ubuntu Linux, then it is available for install in the Ubuntu Software Centre. The other way of installation is through Command Line in the terminal window. You have to perform the following steps to install Geary from command line in Ubuntu 18.04 LTS.
Open the terminal windows and run the following commands in the windows.
$ sudo apt-get update




$ sudo apt-get install geary
The installation process of Geary on other Linux distros is well documented on the official website of Geary Email Client. The link to the official website of Geary email client is given below for documentation, help and installation steps.
Official Website: Official Website of Geary Email Client